2018/4 – The beating heart of Austrian billiards
Gerhard Kostistansky, Arnim Kahofer and Andreas Efler are the three top players in Austria, and they have been for quite a while. But if you ask the man in the street about billiards, the first name you'll hear is that of Heinrich Weingartner. In Vienna, and in most of Austria for that matter, billiards and Weingartner are as good as synonyms.
The grand old gentleman (b. 1939) is a lot more than a former top player. Yes, in the sixties and seventies he did win a slew of national titles in balkline, the free game, 1-cushion and even artistic. But the more recent, none-playing decades of his life have been every bit as productive. If you sum it up, it's almost dazzling: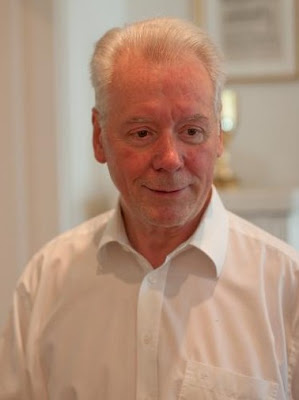 Weingartner has a large shop (since 1964) with billiard articles
A billiard table manufacturing and maintenance company
A billiard school
A billiard room, in typical Viennese coffee house style
He publishes a billiard magazine
Is a former President and now honorary board member of the Austrian Billiard federation BSVÖ
In collaboration with the eminent German billiard historian Dieter Haase, he has published the authoritative "Enzyklopädie des Billardsports".
He has founded some 30 "Vereine" (billiard clubs), mostly in Vienna but a handful in other regions of Austria
And last but not least, he owns and manages the world's foremost carom billiard museum (since 1992), where his private collection is on display.
My first stop in Vienna is the Golden Harp Margareten, a bar and restaurant with a long but narrow billiard room in the basement. As you can see in the picture, it looks almost like a subway. There are four match tables, and this Tuesday evening, two of the top Austrian teams meet. Wiener Billard Assoziation, with Kahofer, Makik, Maurer and current BSVÖ president Herbert Thür take on Billard Sportklub Union S.U., with Kostistansky, Kronlachner, Weiss and Proske.
The Austrian league is small: only eight teams. But even that is too much, so I hear from my helpful interpreter Andreas Kronlachner, an over-1.000 average player himself, who is also the communications officer for all pool, snooker and billiards in Austria.
"The upper half of the league teams can average over 0.900 between the four of them. The lower half struggle to average 0.600. The league would be better off if it was reduced to six or even five teams."
The next day, we meet up with Weingartner at the coffeehouse. He's a tall man who makes a stern impression at first, but he soon reveals a more good-natured side. It's not easy to make him comment on today's global scene. He does not watch Kozoom, prefers the live atmosphere of a packed billiard room, he says. Just one remark slips out, about the modern World Cups: "Those finals are too short. Forty points, it means nothing to those players, it's over in an hour, twelve, fifteen innings. "
You and I agree, Mr. Weingartner.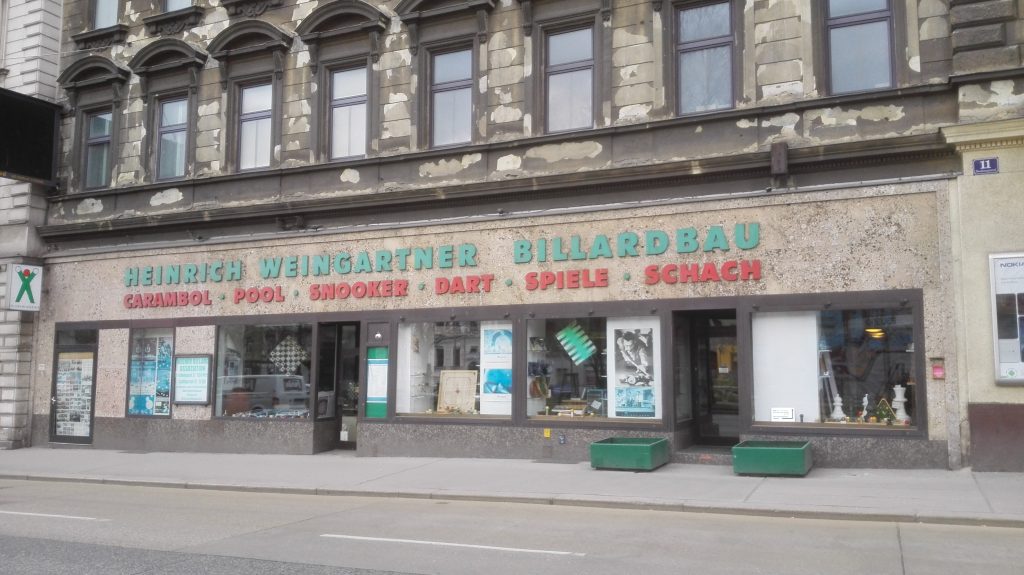 The tour of the museum is a joy. Everybody who is even remotely interested in our sport should have seen all this. Weingartner's unglamorous but genteel inner-city nineteenth century building is like a billiards time capsule. Balls in all shapes, sizes and colors, starting with ivory of course. Cloth, through the ages. Rails, would you believe it, with actual metal springs inside, the type you'd find in a very old mattress. A cabinet filled with all sorts of tips, and a framed picture of Francois Mingaud (the inventor of the tip) looking down on it. Billiard tables from the 1800's, with woodcarvings so intricate and detailed that they blur the line between craft and art. Cues made for royalty: bent in such a way that you could play while standing upright, because royals were not allowed to bow their head in the presence of commoners.
The tour is a history lesson, probably the most interesting one a billiard player will ever have. Weingartner's Austrian accent softens the harshness of the German language and adds flavor to every anecdote. "A collector is by definition dissatisfied, his work is never done."
It turns out he has played in one of the TEP events in Amersfoort, Netherlands (the European Pentathlon for national teams) where I was a spectator. "That was the best event we ever had."
Talk about "old school":
" The Americaine (free game run) is not something you learn in an hour. I went three times around the table, five days a week in those years. "
Another fond memory: "I was friends with Zanetti senior, had been for many years. When he first sent his talented son Marco to Vienna, it was supposed to be a week. I taught him a lot, we practiced, he could not get enough of it. One week turned into eight weeks. At some point, I thought he would never leave! "
The Austrians, I suppose, are as fond of Heinrich Weingartner as the Belgians are of Raymond Ceulemans. Same generation, and the same tireless ambassadorship for the sport. They are truly grand old men. But RC has some of the world's very best following in his footsteps: Caudron, Forthomme, Merckx, Leppens. No such luxury in Austria. Weingartner has watched Efler and Kahofer play sensationally well in "Viersen 2018", but he has last seen one of his countrymen win a World Cup in 1994 (Christoph Pilss – Oosterhout). Can an Austrian player win a WC any time soon? HW is a realist: "I can't see us competing with the Koreans in the upcoming years. Billiard schools, billiard careers, eight hours of practice a day. They are going to run us over."
A week in Vienna told me this: Austria may not be the mightiest billiard country in Europe, it sure is one of the friendliest.