2018/3 – Kings of the stratospheric averages
The greatest 3-cushion players in history, who are they? It all depends on the definition. Emil Zatopek, Lasse Viren and Paavo Nurmi are amongst the greatest long distance runners of all time, that's pretty much undisputed. Today, they couldn't end in the top 25 of a Kenyan or Ethiopian national championship. Times have changed, the speed has gone up. Is it all about titles? Then certainly, Ceulemans with his 21 World crowns and Blomdahl with his 44 World Cups (records that will never be broken) are the greatest.
But if you were to forget titles and look exclusively at peak performances, the two best players in history are Caudron and Jaspers. The averages that were considered shocking in the Ceulemans years are quite common today. Even Blomdahl's world records have been shattered by the Dutchman and the Belgian. Not even multiple world champions like Sánchez, Zanetti and Merckx can keep up with Jaspers and Caudron, when it comes to ultra-high scoring in official matches.
And it's not just what they do, it's how often they do it. Roughly a 1000 matches with an average over 3.000 are on record now, with over 100 players contributing to the list. Almost a third (!) of those matches were played by either Caudron or Jaspers. The caveat here, is that we don't always see full results from tournaments in Korea / Vietnam, South America and Turkey. But you get the general idea: Caudron and Jaspers are the kings of the stratospheric averages.
If you were an outsider, you could be forgiven for thinking that these two must be rather alike. After all, they have faced the same challenges and climbed the same mountain. Don't they have the same set of skills? Well, to a degree. But the problems they will solve in the same manner, the positions they will play along the same lines and with the same speed, that's not what so fascinating to us. It's their major, visible differences in approach that enrich our game and keep us coming back for more.
So who is the best? I am sorry, there is no good answer to that question. Both players have flawless technique, great strength of character, stamina and an insatiable desire to win. In terms of natural ability, speed and fluency, creativity, there is only one Caudron. In terms of surgical precision, concentration, dedication and striving for perfection, there is only one Jaspers.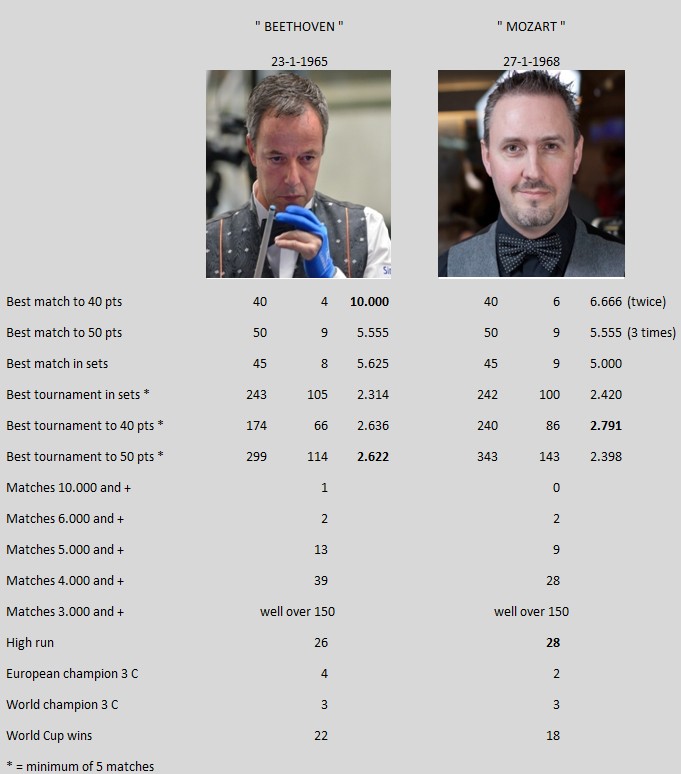 Head to head, you have to give it to the Belgian. He's beaten the Dutchman in a handful of tense, important matches, some of those unforgettable. Who does not remember the 2017 Bursa final, or the 2011 encounter in the French league, where Jaspers ran a 10 and a 22, but still lost (50 -48 in 13), or the 2013 Agipi match where DJ had a 44 – 7 lead, only to lose 47 – 50? Frédéric also won the four-day battle in Spain, the Juanjo Trilles challenge to 600 points (600 – 501 in 274 / 273). Over the years, he has inflicted more pain on Jaspers than he has endured.
But on the stats (see pic), you have to recognize that Jaspers still has a small lead, in World Cups, European titles and top averages. On the most important stat of all, it's a tie: 3-3 in world championships. I happen to think that three is a low number for both, and this is a consequence of the world championship knock-out format. If Jaspers and Caudron could have competed in Round Robin world championships for 30 years, it is likely they both would have won a few more.
The fact that our sport has these two unique players is like a gift that keeps on giving. I could watch five World Cup finals between DJ and FC in a row and never be bored for a second. But that doesn't happen, and why not? Because we also have a DOZEN other guys who can beat them on a good day. And that just takes your breath away. Today, three cushion is so rich in talent that even the mightiest are vulnerable.
NB: Later in 2018, Jaspers would win his 4th world title.